Dr. Eboo Patel
Founder, Interfaith Youth Core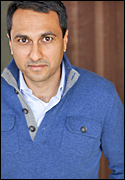 Interfaith Youth Core is an organization that promotes service and religious pluralism among youth on college campuses.
Eboo is a member of President Obama's advisory council for the White House Office for Faith-based and Neighborhood Partnerships.
He is the author of Acts of Faith: The Story of an American Muslim, the Struggle for the Soul of a Generation, and Sacred Ground: Pluralism, Prejudice, and the Promise of America.