Gary Hirshberg
Founder, Stonyfield Farm Yogurt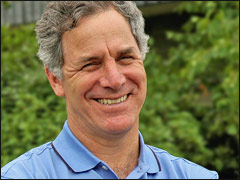 More organic foods are appearing on store shelves lately, but who were some of the first people to bring natural ingredients to our palates? Jessica interviews one such entrepreneur, Gary Hirshberg, the co-founder of Stonyfield Farm Yogurt. Gary and his partner started Stonyfield in 1983 on a farm in New Hampshire in order to finance their struggling non profit organization devoted to teaching responsible food production.
They were on a mission to prove that they could run a profitable company and be environmentally sustainable. Two decades, and millions of dollars later, Stonyfield has more than proven itself. The company has over $250MM in sales and serves as a prototype for other companies who wish to be successful financially AND environmentally.
Gary tells us about his life at Stonyfield Farm in the early days, and how he built a successful-and delicious- yogurt company, from scratch.