Greg Mortenson
Founder, Central Asia Institute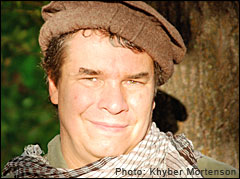 Growing up in the shadow of Mt. Kilimanjaro in Tanzania, Greg Mortenson was raised by a family of humanitarians. After his sister died from a struggle with epilepsy, he decided to climb K2 in her memory. While descending K2 after a failed attempt at the summit, Greg accidentally stumbled into Korphe, a remote Pakistani village. Nurtured back to health by the community, he made a promise to return and build a school for the girls.
Greg is the founder of the Central Asian Institute, an organization responsible for establishing schools, mostly for girls, in Northern Pakistan and Afghanistan. Greg's story is captured in the New York Times best-selling book Three Cups of Tea.
Jessica recorded her interview with Greg in May 2010, prior to the allegations that surfaced against him a year later, in April 2011. He is charged with fabricating stories in his books and misusing the Central Asian Institute's funds to promote his books. Greg tells his story in this interview, from scratch.